JEFF RIAN "Purple Years"
July 17, 2009 at 7.30 pm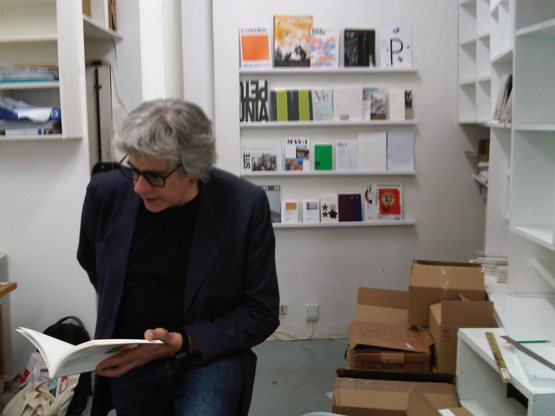 Maybe it has something to do with what Gertrude Stein once wrote on being an American writer in Paris:
One of the things that I liked all these years is to be surrounded by people who know no English. It has left me more intensely alone with my eyes and my English. I do not know if it would have been possible to have English be so all in all to me otherwise… I like living with so very many people and being all alone with English and myself.
Or maybe it is simply because, when he writes, he has no agenda beyond sharing personal experiences, responses, lucidities.
Jeff Rian is one of the few writers in the art world one reads for pleasure. It has been a real luck to have him living in Paris as an American expatriate since the mid-90s, and to keep up with his straightforward, jargon-free, reflective prose. We can only be grateful to onestar press for putting out this new collection of essays – his second after The Buckshot Lexicon (Lexique Revolver, in French) published by Purple Books in 2000.
Purple Years collects two dozens essays that appeared in different form in Purple magazine or in The Purple Journal, the two main venues for his writings here. The texts chosen for Purple Years are not, except for one, about art, visual artists, and musicians, and go by titles like "1992", "Laundry", "Living in Paris", Two Train Rides", "What I Want", "Work" or "A Unified Theory of Acceptance and Letting Go". They form a remarkable collection and make Purple Years the ideal companion for the summer holidays.
This Friday, at castillo/corrales, Purple Years will be at a special price, and Jeff will read, and drinks will be served.