COMMERCE BY ARTISTS
Tuesday February 14 at 7 PM
A presentation of the book "Commerce by Artists" by Louis Jacob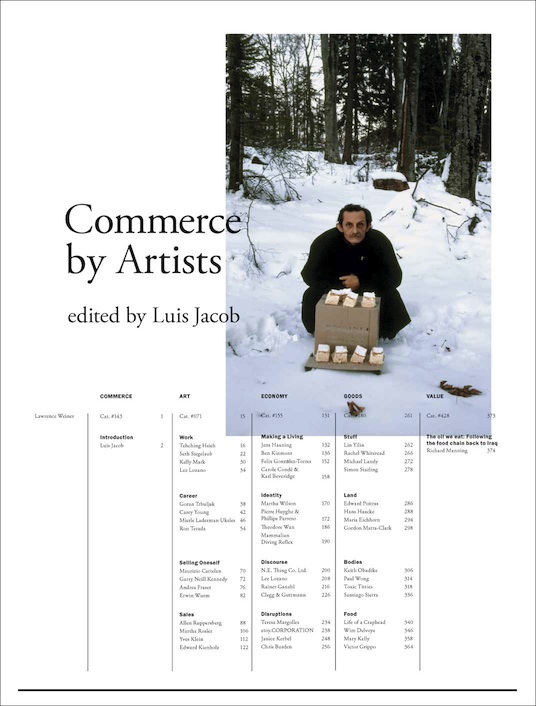 castillo/corrales's bookstore Section 7 Books is pleased to host artist Toronto-based artist & writer Luis Jacob, for a lecture dedicated to the book he recently edited: Commerce by Artists published by Art Metropole, Toronto.
The cover of Commerce by Artists is snowy, and it's true the weather is almost Canadian in Paris these days. Weather reports speak about sweeter temperatures for the beginning of this week though, so the fact that we're organizing twice in four days an event shouldn't prevent one from passing by. We'll prepare hot drinks if need be. 
Commerce by Artists is a thick and carefully-thought volume, investigating the proposals, practices and ways of life of artists who have ben conducing commercial transactions as part of their work, challenging the realities of art and questioning their usual conditions of production. The book discusses some well-known initiatives by Lee Lozano, Gordon Matta-Clark or Mierle Laderman Ukeles, and also sheds new light on the work of the likes of Tehching Hsieh, Ben Kinmont, Carole Condé & Karl Beveridge, Maria Eichhorn or Mladen Stilinović.
Luis Jacob's talk will contextualize his interest in the idea of Commerce by Artists with a presentation of the "network aesthetics" of Canadian artist collectives Image Bank (Vancouver) and General Idea (Toronto); he will further discuss the status of artistic production, in relation to the importance of process, flow, circulation and the relationship between material "things" and immaterial "values" and/or "meanings."
Luis Jacob's work has recently been exhibited at MOCCA (Toronto) the Hamburger Kunstverein (Hamburg), documenta12 (Kassel), castillo/corrales (Belleville) and was part of the Animism exhibition that is touring from Antwerp to Berlin. His solo exhibition A finger in the pie, A foot in the door, A leg in quicksand at Kunsthalle Lingen, Germany, will open February 24.