BRIAN KENNON / 2nd CANNONS PUBLICATIONS, LOS ANGELES
Thursday May 20, at 7.30pm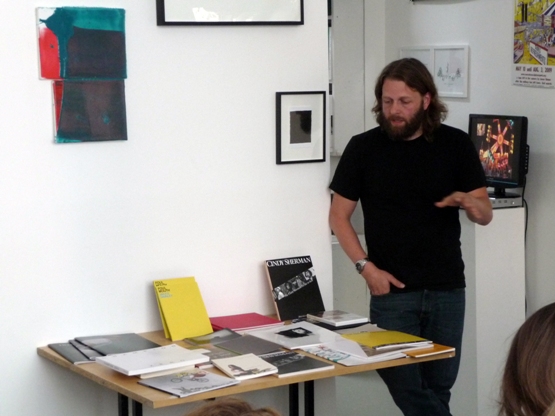 Could there be a better guest for an evening at castillo/corrales around this time of year?
Brian Kennon, you know, the author of Good Boy (a collection of dissected and altered Christopher Wool paintings, remade into Misfits song titles, Minutemen song lyrics and other paintings Christopher Wool never made, but Kennon thought he should have) and The Cindy Shermans I'd Like to Fuck (where Sherman's photographs of phantom female identities are appropriated and reorganized into 7 chapters based on the sex drive of the book's author) and Black and White Reproductions of the Abstract Expressionists (here the title says it all, well almost), and Hello Victims: Ad Reinhardt (where Reinhardt's black paintings are presented within the context of the equally apocalyptic lenses of Motorhead, Nuclear War and Zombie films) or She Has a Hot Ass…
Brian Kennon, you know, the publisher of Rarely Seen Bas Jan Ader Film, a flipbook by David Horvitz, and Good Morning Evil Genius by Meg Cranston, and Foul Mouth by Bruce Hainley, and last but not least, Tearoom by William E. Jones (amongst other publications of the filmmaker).
There is only one Brian Kennon, and he will be at castillo/corrales this Thursday to talk about all these books, and the work with his imprint 2nd Cannons, which holds a pretty unique position in the art publishing landscape.