BREAKING POINT: KATHRYN BIGELOW'S LIFE IN ART
January 16 – March 20, 2010
Opening Saturday 16 January, from 4 to 9pm
How to begin? The rhetoric of violence in visual arts between genre movies and performance art? Mass media as an anti-model in avant-garde, or the place of women in conceptual art? Paradoxes in criticality and high production value moviemaking? Maybe auteurism, authority and collaborative creativity?
Let's keep it simple: in the 1970s in New York, Kathryn Bigelow was part of the art world. She collaborated with Lawrence Weiner, Art & Language, Vito Acconci, Richard Serra, and others. This was long before she directed the "action-packed" Hollywood movies Blue Steel, Point Break or Strange Days and established herself as one of the very few female film directors with a penchant for genre movies and gender roleplays – something which made her appreciated as much as an auteur than as a case study in film criticism and women studies.
Some might say her conceptualist past isn't more than just a mere footnote in her biography, a funny anecdote to remember to tell at a social dinner. Others would reply that you can't happen to sing Art & Language lyrics just by chance. But how formativeexactly were these formative years? And also: how can one determine whether one's early years are just a hitch or the origins of everything that followed? Is this a question of contradiction and self-denial or continuity and achievement?
Breaking Point traces Kathryn Bigelow's trajectory in art in the 1970s and subsequent progression into the contemporary popular cinematic landscape starting in the mid 1980s. The exhibition starts with Lawrence Weiner's video of a young Bigelow reading aloud in a mise-en-scène similar to a romantic post-Nouvelle Vague sequence. We then follow her path from contributions to The Fox journal and the early issues ofSemiotext(e) to Cinématographe and L'Ecran Fantastique, from collaborating with The Red Krayola and New Order, from quoting Jurgen Habermas and Mao Tse-Tung to casting Jamie Lee Curtis and Angela Bassett, from participating in the 1976 Venice Biennale to the 2010 Academy Awards, where her 2009 film The Hurt Locker is an award frontrunner.
///////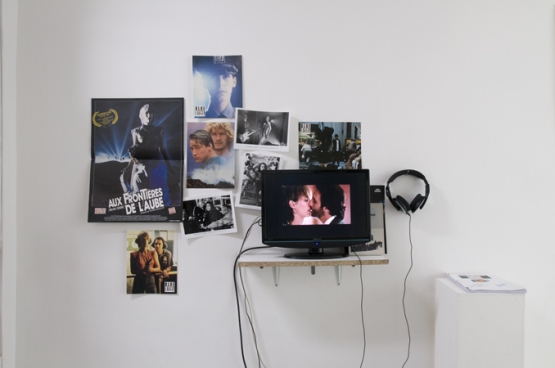 Tout commence par ce qui semble être une anecdote. Kathryn Bigelow, la réalisatrice d'Aux frontières de l'aube, de Point Break et de Démineurs, a fait partie, dans les années 1970, de la scène artistique new-yorkaise : elle a travaillé avec Lawrence Weiner, Vito Acconci, Art & Language, et quelques autres. Elle a également écrit, à l'époque, quelques textes pour différentes revues, y compris Semiotext(e), la revue fondée par Sylvère Lotringer, alors qu'elle avait quitté le Whitney Independent Study Program pour étudier le cinéma à Columbia.
C'était donc bien avant qu'elle ne devienne une réalisatrice reconnue, tant pour l'ambition auteuriste de ses films que pour son statut particulier — celui d'une des rares femmes cinéastes à s'être imposée à Hollywood, qui plus est dans le répertoire du film de genre (comprenez de genre masculin). Le cinéphile avisé, qu'il (ou elle) ait été impressionné(e) par l'ampleur narrative et la violence de Strange Days, intrigué(e) par la complexité des héroïnes de Blue Steel ou du Poids de l'eau, ou qu'elle (ou il) ait voué un culte à Keanu Reeves et Patrick Swayze après les avoir suivis sur les planches de surf de Point Break, s'est sans doute déjà penché sur l'originalité de la carrière cinématographique de Bigelow. Mais qu'en est-il de ses années de formation? La singularité de la voie qu'elle a tracée n'est-elle que le fruit du hasard, ou l'explication première de son œuvre filmique? Une expérience de l'art peut-elle être profitable? Quelle est l'alternative? Renoncer ou se contredire? Réussir ou se trahir? S'accomplir ou tout arrêter?
C'est donc le parcours de Kathryn Bigelow dans la sphère de l'art contemporain, au fil des années 1970 et 80, que se propose d'évoquer l'exposition Breaking Point, par le biais d'un ensemble de vidéos auxquelles elle a participé, de revues dans lesquelles elle a écrit, de documents et de fétiches à l'authenticité parfois douteuse. Son propos n'est pas pour autant de fixer définitivement quelque histoire que ce soit, de forcer le parallèle entre la tension d'un thriller et les débats idéologiques des années 1970, ou de renvoyer la place des femmes à Hollywood à celle qu'elles peuvent encore avoir dans le champ de l'art. Et ce, même si les vidéos de Lawrence Weiner ont bien à voir avec la Nouvelle Vague, que la culture de masse n'est pas si loin des artistes conceptuels, et qu'il n'y a pas tant de distance entre la Biennale de Venise de 1976 et les Oscars de 2010 pour lesquels Démineurs, le dernier film de Bigelow, devrait concourir.
Photo: Art & Language (Mayo Thompson, Christine Kozlov, Kathy Bigelow, Jesse Chamberlain, Paula Ramsden and Mel Ramsden) in "…And now for something completely different", a sequence from Zoran Popovic' "Struggle in New York", 1976. From "Schema Informazione" #3, Firenze, n.d.
Many thanks to: Mayo Thompson, Lawrence Weiner, Centre Pompidou, Philippe Méaille, Bill Krohn, Musée d'Art Moderne de la Ville de Paris, Julien Kernanet, Nicolas Perge, Clément Rodzielski, Flint Jamison.